Dear Night Ranger fans,

The review you are about to read is rather long, so take your time and enjoy. It is not just a concert review, it's more of a diary from my trip to USA in the year 2000. It's also important for you to understand that this review was written by a typically "new" (New, as in: Discovered the band in 1995!) Night Ranger fan, that gets to see his favorite band, live, for the second time in his life. And we all know what typical FANS act like, don't we... Hehe! However, it should be said that the review below isn't finished. The finished review will be uploaded sometime, but for now, enjoy what's below!



SUMMER VACATION 2000 IN USA:
Thomas and Shahin goes to USA to see Night Ranger live!

Introduction: Hi! I'm Thomas and I run this site, but I'm sure you all knew that! However, what many of you don't know is that I live in Norway. Norway is a tiny little country over in Europe, right next to Sweden. (Sweden is, of course, the country that makes fine automobiles like Saab and Volvo) Anyways, in the spring of 2000 I was surfing the net and found out that Night Ranger were going on tour in the US that summer and fall, so I kept the concert dates in mind, and the next day, I talked with my good friend Shahin at school and we both got into a discussion of how cool it would be to go the States and see Night Ranger live! Well, just FOUR days later, after heavy planning, calling airline companies, hotels in the US to make room reservations etc. we finally had it all ready! We were finally going to the States to see Night Ranger live! I'd seen Night Ranger live once before, in 1999, but my friend had never seen the band live, so, he was really looking forward to it! We decided that we would fly in for two Night Ranger shows. The July 28th show in Chicago Ridge, IL and the August 5th show in Big Flats, NY. I saw the band last year in Albany, NY and it was an out-of-this-world experience! They were SO amazing live, I just HAD to go back! :-) So I did...




July 26th 2000: The plane was going to leave at 8 in the morning, so we had to get up at 5 in the morning to get ready for the ride to Oslo International Airport using the Airport Express Train. (train pictured left) Not that we got much sleep that night, because when you're about to travel to the other side of the world and see the greatest band in the world, you can get a little excited, yeah! :-) So we didn't get much sleep, but anyways I had my bag and my suitcase packed and ready. Most of the clothes I brought with me were Night Ranger t-shirts, and in my bag I had 8 CD's for the band to sign IF I met them. That was a dream and I thought it would never happen. The CD's I brought with me were: Brad Gillis "Alligator" / King Of Hearts "1989" / Night Ranger "7 Wishes" / Night Ranger "Seven" / Night Ranger "Feeding Off The Mojo" / Shaw Blades "Hallucination" / Mother's Army "Fire On The Moon" - All are great CD's! However, I did not bring a portable cd-player. For one simple reason, I didn't have any! :-) I also brought with me the vinyl LP cover to Night Ranger "Midnight Madness" and a Night Ranger cap and some Night Ranger buttons. On a really cool note: About a week before I left, I got a package in the mail from Brad Gillis with two copies of his new album "Alligator", and I had the CD on repeat every day! I love this album! Thank you so much Brad! After I checked my packing list, had a quick shower and getting through a very brief breakfast, me and my friend Shahin got to the the Airport Express Train and boarded it using our airline tickets. The 20 minute trainride went smoothly. Well, except for the *stupid* 45 minute delay about 5 minutes away from the Airport itself. Because of the delay, time got short and we had to run once we got to the airport.



And what a huge airport it is. (airport pictured to the right) Well, it's NOTHING compared to O'Hare in Chicago, obviously! Hehe! Anyways we got to the check-in and got through everything a-ok. We had a pizza slice and a diet Coke at Pizza Hut before we boarded the plane, bound to Stockholm in Sweden. See, there were no direct tickets left from Oslo in Norway to Chicago. So, we had to take a one hour flight to Stockholm to change plane. Take-off. It felt so good to finally be on the way, ya know? In a couple of days, I was about to see Night Ranger again! I just couldn't wait! Real nice flight to Stockholm. Once we got there, there was just enough time to go to the bathroom and relax a little before the main flight to Chicago.
(airline ticket pictured to the left) We went into the plane and it took off. Eventhough the Night Ranger concert in Chicago Ridge, IL wasn't until Friday, I was so incredibly excited! Because for every second that passed, the Night Ranger show was one second closer! The 8 hour and 30 minute flight was, unsurprisingly, boring. But I killed quite a lot of time reading my two music magazines that I'd brought with me. One was Circus magazine, the other was Guitar World. Both issues were from the 80's, and both had Night Ranger on the front cover. The entire Guitar World front cover is filled up with Brad and Jeff on a pink background. Real nice! :-) It wasn't too bad sitting there for 8 hours and 30 minutes though. We got a hot meal, lunch and breakfast. Anyway, the flight went pretty smoothly, (plane pictured below) and we landed at O'Hare Airport in Chicago around noon, Chicago-time. It always feels weird when you travel halfway around the world like this. We got up early that day, sat on a plane for over 8 hours, and when we got to our destination, it was morning all over again, cause Chicago time is like 7-8 hours behind Norway time. I didn't sleep on the plane. And considering I didn't sleep much the previous night, I felt pretty tired. But I felt good, knewing what was awaiting me!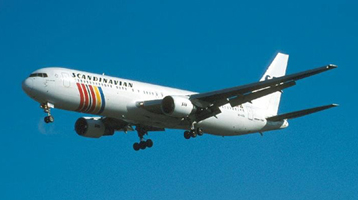 After we aquired our luggage, we went thru the passport check, and the man sitting there asked me what the purpose of my stay in the States was. I smiled and replied "I'm going to a concert", and went on into the airport to find a phone so that we could call our hotel. I found a free phone and called the Howard Johnson's Express Inn to get a shuttle. A few minutes later, the shuttle arrived, and this crazy Spanish dude took us to the hotel, only about 5 minutes away from the Airport. In between his cussing about how lousy everybody were driving, he told me I looked just like a Spanish singer in a band or something. He told me that he was going to ask me for my autograph. I'm not kidding! He then went on telling me how everybody at the hotel would ask me for autopgraphs and stuff. He was so cool, and it all was very funny. However, to my relief, nobody asked me for any autographs during my 4-day stay in Chicago. :-)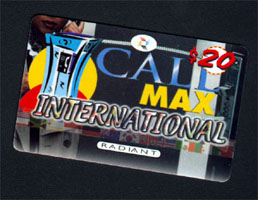 We finally arrived at the hotel and checked in. It felt good to finally be able to relax a little. I decided I would call some friends back home in Norway and bought a calling card. I tried calling like 10 people over in Norway, but I never got through to anybody. Before I knew it, the calling card was empty and I had wasted $20 on nothing... Weird! We took a quick walk outside the hotel to check out the surroundings, then went back to the lobby to find out where Chicago Ridge was. Back home, before we left for the States, all we knew about the show in Chicago was the date and the name of the city it was going to be in. I sent an email to the Rumors In The Air mailing list and asked for help! Rumors In The Air is a mailing list with tons of hardcore Night Ranger fans, and they always help you out of you have any questions concerning Night Ranger and related stuff! I needed more info about the show before I left for the States, and the very kind Jennifer from the Night Ranger mailing list "Rumors In The Air" had made a call to the Ridgefest hotline where she got all the neccessary info for the show. She found out that the name of the venue was Freedom Park, that the gates to the Park opened at 5, that Night Ranger was going to start between 8 and 9, and that the name of the opening band was Infinity. Some of the information from the hotline wasn't entirely correct though. Here is a quote from the Ridgefest hotline: "Night Ranger was famous for such hits as "Motor in, Dream About Me, and Don't Tell Me You Love Me" - Hey, one out of three ain't too bad, now is it? Hehe!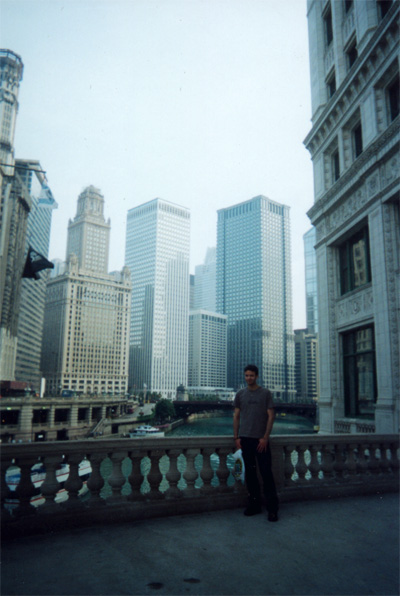 Ok, so we knew that we were going to this town called Chicago Ridge, (Thomas in downtown Chicago pictured right) and we knew that we were going to the Ridgefest 2000 festival, but we didn't know exactly where Chicago Ridge was, or how to get there. So we asked the people in the lobby at the hotel where we could find information about the Chicago Ridgefest 2000. They gave us some maps, but Mike (the janitor) told us the map was crap and gave me a "real" map! Mike was totally cool! I told him why we were going to the Ridgefest, and he was like "Night Ranger! Yeah! I remember those guys!" and it appeared that he was a fan back in the 80's, and didn't know that the band existed today. He told us how he partied and went to wild Night Ranger concerts in the 80's! Seemed to me like he had a great time back then! I told him "go see the band this Friday man!", but he had stuff to do, so he couldn't go. I read the email that I got from Jennifer, and the woman in the lobby "recognized" the "names" of the tunes and started singing "MOTOR IN!!! - Yeah, I remember these songs!" She was so sweet.. It was so cool that everybody we talked to at this hotel knew about the band! Anyways, with the help of the Howard Johnson people, we found out how to get to Chicago Ridge. We had to first take the shuttle to the Airport, then the train to Downtown Chicago, then change train from the blueline train to the redline train and take the redline train to the last station on that line, then take a bus to Chicago Ridge. (Hm, I can't believe I remember all of that stuff.. It was confusing with all this info when I tried to find out exactly where the concert were !)



Feeling confident that we would find the concert on Friday, we went Downtown to check out Chicago, where we'd never been before. (My bestfriend Shahin in downtown Chicago pictured to the right) We took the shuttle to the Airport, then the train. It was a 45 minute ride. We got off at the Washington station and began discovering what we found out to be a very beautiful city! It was warm. Very warm. It must have been over 100 degrees, and the humitidy was very high. I love it when it's warm! Hehe.. In Norway, my home country, it's never that warm! Anyway, We shopped around for a while and found a place called Coconuts. It was a really great music/dvd store. They had dvd movies, music cd's, portable cd players and other cool stuff. The first thing I saw after walking to the 2nd floor was a big "new music" rack, with Jim Peterik's new album "Jim Peterik and World Stage", which I immediately grabbed a copy of! I had been looking for that CD since it came out a little while ago, but I couldn't find it. I was very happy to find it in Chicago! If you don't know it, the CD has a really beautiful song on it with Kelly Keagy and Jim Peterik (from the band Survivor) in a vocal duet. The song is called "Long Road Home" and is basically about letting the people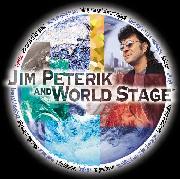 you love know that you love them before it's too late. It's really beautiful! Jim is great throughtout the whole album. Every song is a duet with Jim and other famous artists. Lotsa awesome artists on this album! Kelly Keagy of Night Ranger, Dennis De Young of Styx, Kevin Kronin of REO Speedwagon and Don Barnes of 38 Special, to mention a few. It became one of my favorite albums on the first listen. (world stage album cover pictured right) I also bought a portable cd player at Coconut's. Whoa. Why is everything so cheap in the States? I paid $99 for one of Sony's new "G-protection" top of the line portable cd player models. In Norway, where I live, the same player is about $400. Anyways, I had to buy that cd player to listen to the Jim Peterik CD, and the other CD's I brought with me from home! :-)






July 28th: Oh Yeah! It was Friday and we were going to see Night Ranger! We woke up at about 2pm (I like sleeping in late.. hehe.. but it's not too smart to sleep in late when you're going to see Night Ranger, now is it!), put on my white sleeve-less Night Ranger "7 Wishes" t-shirt, put my photo camera in my pocket, put a tiny black Night Ranger "Midnight Madness" button on my pants and I was ready to go! I also brought with me the album cover to the vinyl LP "Midnight Madness" to hold up during the concert! Hey, if you're a fan, you're a fan! :-) Ok, so, the gates to the Ridgefest 2000 festival area opened at 5, so we had to hurry. Cause, we didn't know exactly where Freedom Park were located in Chicago Ridge. Wee just knew it was there. Ah, complicated stuff. Hehe! I feel confused NOW. Imagine how cunfused I was back THEN! Hehe! Anyways, we took the shuttle to the Airport and the blueline train to the Washington station where we changed to the redline train. We took the redline train to the end station and waited there a short while for the bus to take us to Chicago Ridge. Everywhere we went, people were staring at my Night Ranger t-shirt! I enjoyed the attention! ;-) The bus arrived and we were melting. It was a sunny day with a very blue sky, and it didn't exactly get any cooler by standing right next to lotsa busses with their engines running. We got on the bus and paid like $1.50. The bus driver said the ride was long. I don't remember how long we sat on the bus, but it was not too long. The bus got to Chicago Ridge and we jumped off. We ran over to Subway to get something to eat, real quick. The time was now something like 6, and the gates to the festival were open. We felt like we didn't have too much time before Night Ranger was going to start, so we felt stessed! We ran over to a restaurant and asked the cute girl washing the floor where the Ridgefest festival was. She didn't know, and told us to ask the girls behind the counter. So we did. The knew where the Freedom Park was, and pointed down the street, and told us to walk straight down, over two railroad tracks, to the left and we were there. But I was stressed and didn't get that message correctly. So we walked out of the restaurant and instead of walking straight down, towards the festival, we walked to the right and followed the main road for about 10 minutes. We heard some music and thought that maybe Night Ranger was playing, and got even more stressed! We forgot that they were going to start between 8 and 9. Man, I was just so stressed! Anyhow, we walked along a nice green field and found a big building. An office building and a hall or something. We walked in and asked the people working there where the Freedom Park was. They saw my Night Ranger t-shirt and said: "oh you're going to the Ridgefest!" Hehe, that was cool! They gave us the directions. The directions were pretty much the same as the directions we got from the girls that worked in the restaurant. I realized we had been walking the wrong way, and hit my head in anger. We hurried and moved along. This time, we did it right. We walked back the way we came from, and stopped at a traffic light, to cross the road. To be 100% sure about the direction we were walking, I asked this guy on a bike where the Ridgefest was. He pointed across the road and comfirmed that our path was right. He said that he was going to the festival to see Night Ranger. Cool! It was so awesome to be in a place where everybody knew about the concert and the band! It felt so good! We walked across the road and walked past a huuuge mall. The Chicago Ridge mall, or something like that. It was huge. We don't have malls in Norway. While walking past the mall, we found a huge sign on the right side of the road that said "RIDGEFEST 2000 WITH NIGHT RANGER, RICK SPRINGFIELD..." which I thought was cool! I didn't take a picture of it, which I later hit myself in the head for. As we saw the sign, and the words NIGHT RANGER, my anticipation for the show became even bigger, and I started stressing just a little bit more to get to the Freedom Park a little bit sooner! :-) A lot of people were walking down the road. I thought that they were all going to the Ridgefest. At this point, I felt very happy, eventhough we hadn't found the festival yet. It was just such a great day. Nice weather, with nice humidity in the air to go with that, and Night Ranger was close!!!


We kept on walking and passed the two railroad tracks and walked into a nice little street with shops and stuff. On the right side of the road we saw a large sign that said "RIDGEFEST 2000 WITH NIGHT RANGER...", very much alike the first sign we saw next to the mall. On the sign, there was a big arrow pointing to the left, so the Ridgefest had to be close! Sure enough, there it was. Only a few hundred feet to the left, behind some houses. We walked over to the festival area entrance and asked the police officers standing there if this was the place Night Ranger was going to be playing tonight, and they said yes. We walked over to the people selling tickets and bought one. It was very cheap, only $5! And that included the Night Ranger concert! I have never bought a cheaper concert ticket in my entire life. WOW! In Norway, where I live, concerts are typically arond $40 til $65 US dollars! Haha! How's that for great prices! While we bought our tickets, we heard some really strong bass-drum sounds from inside the park. I wondered if that could be Night Ranger's Kelly Keagy testing his equipment. We got very excited and almost ran (let's just say we walked really fast! Hehe!) into the park to check out where the noise was coming from. We walked past lotsa tents, and got to the center of it all, where there was this big open area with a medium-sized stage in the middle, and people everywhere. As we walked over to this bench to sit down, the opening band was presented and came on stage. They were called Infinity. They started playing, and sounded really great! I think they started off with a Journey tune. The lead singer almost sounded exactly like Steve Perry of Journey! I took a look at the left side of the stage, cause there were some people standing behind the fence talking. And OH MY GOD (these three words kept running through my head!) the person standing next to the stage was KELLY KEAGY!!! He was standing right there, beside the stage to the left talking to somebody! Kelly Keagy of Night Ranger! I FREAKED! My heart rate went WAY up and it was like.. Very unreal! :-) But it WAS real! Only seconds later, two sweet, young women walked over to me and went "Are you Thomas?" and I replied "Yes!" and it was Jennifer and Tracie from the Rumors In The Air mailing list! (Hi Jen & Tracie!;-) I recognized Tracie! I've seen pictures of her on the net, taked with band members of Night Ranger! They told me that Elizabeth (also from the mailing list, but not able to attent the concert that day) had told the band that I was coming, and that I was on the guest list........ I FREAKED! AGAIN! It was amazing! I knew NOTHING about it! All I knew was that Night Ranger was going to play! I was totally blown away when I heard that I was on the list! What happened was that on the same day I flew to the States, that was on July 26th, only two days before the concert, Elizabeth bumped into Kelly Keagy and Alan Fitzgerald on a flight to Cleveland. Wow, how lucky is that? It's not everyday that you bump into great rock stars like Kelly Keagy and Alan Fitzgerald! Elizabeth told Kelly and Fitz about me, and that I was flying in to the US from Norway *JUST* to see the band in concert, live! Kelly and Fitz were somewhat shocked to hear that and said that they had to do "something" for me when I got there, so they put me on the guestlist! (VIP stuff, backstage access etc.) Now, I didn't know about that when I got there, I found out about this when I got home and read my email and saw that email from Elizabeth. Thanks again Elizabeth, forgetting me AND my friend Shahin backstage! And thanks to Kelly Keagy and Alan Fitzgerald for putting us on the guestlist! I am forever thankful to you guys! :-)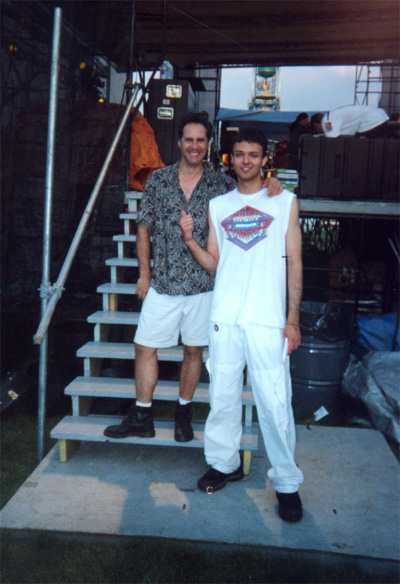 Anyhow, back to my concert story! Tracie and Jen told us to get over there, and so we went. We walked on over to the fence to the left of the stage, and only a feet away from Kelly Keagy, I remember freaking out! (though, I managed somewhat to keep my freaking outness to myself, inside.. cause' I imagined that rock stars don't love over-hyper fans like myself.. hehe!) We were met by this very very VERY nice woman, named Monique. She smiled at me and asked me if I was Thomas from Norway and I said yes. She shaked hands with me and my friend and introduced herself. I noticed she had a VIP pass on her top with a picture of Kelly Keagy on it. Later I found out that Monique is Kelly's girlfriend! And I tell ya, they were real cute together! :-) A nice couple!! Anyways, we got in behind the fence and I walked right over to Kelly Keagy and said "hi!" and it was like one of the most amazing experiences of my life to meet this man! My idol, and an awesome drummer and singer. And I finally got to meet him! I was sooo happy! I told Kelly that I flew in from Norway to see the band. (but he already knew that, cause he met Elizabeth a few days earlier.. but I didn't know that he knew that! lol! I hope I didn't seem rude or anything..) I felt like I was the luckiest guy in the world standing there with Mr. Kelly Keagy. I talked with Kelly for a while, and he was the KINDEST guy!!! Wow.. He was so nice to talk to, so nice and seemed very very much like a regular guy! This didn't surprise me as I hear reports all the time about people meeting Night Ranger, and how the guys in the band are just like normal people! Down to earth people and everything! It was so nice talking with Kelly! I told him that I'd been studying his
drumming technique and that I really like it! Kelly replied "I don't have a special technique, I just love to play rock'n roll man!" Like I said, he was the greatest guy!!!!! Then I pulled out my cd covers that I had brought with me for a possible signing by band members of Night Ranger. Kelly smiled and took ALL of my cd covers and took a look at them. He smiled and looked at them. When he got to my King Of Hearts "1989" cd cover, he stopped and went "Wow..." and then "Hey Monique, take a look at this.. He's got the King Of Hearts CD!" And he got this really big smile on his face! Seemed to me that he really liked seeing that album cover amongst the others! Must be one of his favorites! It's one of my favorite CD's as well! I LOVE that CD! I listen to it ALL the time! So, he took all of my stuff and said that he would take care of it and brought it into the Night Ranger band trailer. Then both me and my friend Shahin got bottled springwater from Monique! Free water! Wow! :) She was so nice to us! We really needed that water.. it was HOT! And everywhere I looked, I saw people running around getting things ready for THE band to hit the stage. Night Ranger! So, while I stood there, people got phone calls, and I believe they were calls from Jack Blades. I heard that the other guys, Brad, Jeff, Fitz and Jack were on their way. And it didn't take long before they got there. I don't remember what cars they came in, could've been limos. :-) It was like a dream come true standing there, and everything seemed so unreal and weird, but damn good and damn cool! Suddenly I saw Brad and Jeff, then I saw Jack for a very short split second (he seemed like a very busy guy!) and Fitz.



Suddenly they were all there, all of Night Ranger... and we were hanging out with them! With... Night Ranger... "We're not worthy, we're not worthy" etc.!! I shook hands with Brad and talked with him for a little while! Told him that the band was great last year in Albany, NY on the Rock Never Stops Tour (I met Brad and Jeff after the show in Albany, NY that summer and they were the gratest guys!) and then I told him it was nice to meet him again! He remembered meeting me last year, and that really impressed me! It's so awesome that a rock star, who meets new people all the time, remember You! Know what I mean? Awesome, awesome! Finally I got to talk to Jack Blades! He walked up to me and shaked hands with me, then went into this story (Jack loves to tell stories! We all know this! Hehe) about his son Colin and this girl... Now, Jack's family had this foreign exchange student from Europe staying with them for a year (I didn't get when this happened) or so, and what happened was that Colin, jack's son, got romantically interested in this girl, or something like that. Colin then flew over to Belgium to visit this girl, in her home country, Belgium. Now, at this point in Jack's story, he looked at me and asked me: "You were from Belgium, right?" And I went "No, Norway!". Jack just smiled and laughed and I thought the whole thing was hilarous, with Jack telling me this long and complicated story about Colin going to Belgium, because all the time he THOUGHT that I lived in Belgium! Hehehe! Jack was totally cool! He was JUST like I'd imagined, very funny and very physical! He did all these moves with his hands while talking, and kind of jumped around all the time! :) In the middle of all these amazing events, I forgot to take lots and lots of pictures! Which bummed me out bigtime later... BUT I did get to take a picture with Kelly Keagy, and one with Jeff Watson! (Jeff loves to pose, doesn't he!)

Ok, that's all I have for this time! I will finish my review of the concert night eventually... Can't say when, but sometime! Keep Rockin' !!! Thomas