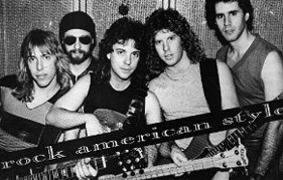 The legendary band Night Ranger is a hard rock band from the Bay Area in San Francisco, USA. They've been busy making killer rock music since the early 1980's. The band was formed in 1980 by Alan Fitzgerald (pictured). Some of the guys already knew each other; Jack Blades and Brad Gillis were in a funk band called Rubicon in the late 1970's. Rubicon released two albums, "Rubicon" in 1978 and "America Dreams" in 1980. Jack, Brad and the other members of Rubicon were later joined by drummer Kelly Keagy. Rubicon performed live in front of 250.000 people in an event called "Califonia Jam 2". Some of the other bands on the playing list were Ted Nugent, Santana and Aerosmith. Rubicon was featured on the live album "California Jam 2" (1978). The concert was also aired on television. Rubicon soon turned into a band called Stereo, a rock band with the band members Jack Blades, Kelly Keagy and Brad Gillis. Jack Blades met keyboard player Alan Fitzgerald, and Alan hooked up with guitarist Jeff Watson, who played in his own band, the Jeff Watson Band, at the time. The year was 1980, and the band Ranger was formed. When Ranger found out they had the same name as a country band, they changed their name to Night Ranger. Rumors (in the air) has it that the guys threw band name suggestions into Fitz' hat and then pulled names up from his hat, leading to the new band name: NIGHT RANGER. The band started touring, and did some touring with the band Kiss, which according to Jack Blades "taught us how to rock!". In 1982, Ozzy Osbourne's guitar player Randy Rhoades died in a plane crash. Ozzy did trials for a new guitar player, and when Brad Gillis came up, he immediately hired him to replace Randy. Brad started playing guitar for Ozzy Osbourne and did some extensive touring with Ozzy. After some time, Brad decided to leave Ozzy and go where his heart was; with Jack, Fitz and the boys in Night Ranger. At that point, Brad was already signed to Night Ranger. You can hear Brad's insane guitar playing with Ozzy on the live Ozzy Osbourne album "Speak Of the Devil", and on the concert video from the same gig.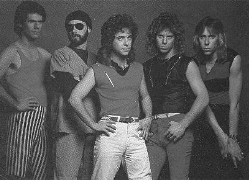 Night Ranger released their first album "Dawn Patrol" in 1982 on Boardwalk Records. Soon Boardwalk Records went down and out of business and Night Ranger was without a label. MCA Records called them up and signed the band. Night Ranger was rockin' the tv screens across the USA and the radio airwaves bigtime in 1982 and 1983 with the singles "Don't Tell Me You Love Me" and "Sing Me Away". In 1983 the band released their first album on Camel/MCA Records. "Midnight Madness" hit the shelves and became a HUGE commercial success selling millions of copies! The hot hit singles off of "Midnight Madness" were "(You Can Still) Rock In America", "When You Close Your Eyes" and the mega smash-hit "Sister Christian". "Rumors In The Air" was also a radio single. Night Ranger became touring maniacs during the "Midnight Madness" tour and put on 150+ shows a year. The popular song "Rumors In The Air" from the "Midnight Madness" album was used as background music in the box office smash hit John Hughes movie "Sixteen Candles" (starring Molly Ringwald) in 1984. On New Years Eve 1984, Night Ranger held a concert hosted by Dick Clark on Dick's "Rockin' New Years Eve" show and rocked all of America into 1985!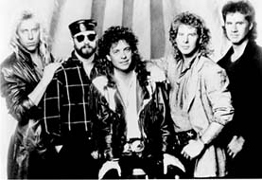 After touring for over a year and a half, the band released their third album. The year was 1985 and "7 Wishes" hit the streets. "7 Wishes" became just as successfull as "Midnight Madness". The hot Billboard chart topping singles off of the "7 Wishes" album were "Four In The Morning", "Sentimental Street" and "Goodbye". Motley Crue's drummer Tommy Lee joined Night Ranger and did some background vocals in the song "Night Machine" off of the "7 Wishes" album. The band appeared in numerous TV and radio shows thoughtout 1985. One particularly funny show was the half hour long Night Ranger Guest VJ show on MTV. (This one is is wanted by many Night Ranger fans to be released on DVD or Blu-Ray!) Jack, Kelly, Fitz, Jeff and Brad were just having a blast throughout the entire show. The song "Interstate Love Affair" from the "7 Wishes" album was used in the movie "Teachers" (1984), and featured on the Soundtrack. Another Night Ranger song in a movie was "This Boy Needs To Rock" from the movie "Explorers" (1985) starring River Phoenix. "This Boy Needs To Rock" was also featured on the "Explorers" Soundtrack. Night Ranger did a song called "Wild And Innocent Youth" for the action movie "Out Of Bounds" (Starring Anthony-Michael Hall) in 1986. The song, which was used as the ending theme in the movie, was only released on the movie's Soundtrack. The band went on doing their magical "7 Wishes Tour" and rocked on into 1986.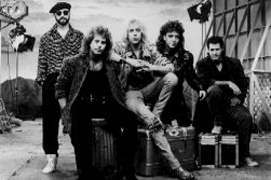 In 1987, Night Ranger released their fourth rockin' album, "Big Life". The three killer singles off of this album were "Color Of Your Smile", "The Secret Of My Success" and "Hearts Away". The tune "The Secret Of my Success" was co-written and produced by musician David Foster, and was used as the intro and ending theme in the film "The Secret Of My Success" (1987) starring Michael J. Fox. This film was also one of the Top 10 box office smash hits of 1987 and left millions of ears enjoying Night Ranger's Theme! The Night Ranger song "The Secret Of My Success" got nominated for a Golden Globe award for 'best song' that year. Night Ranger rocked the world on their 1987 "Big Life World Tour", playing in the US, Japan and England (Wembley Stadium). Alan Fitzgerald left the band early in 1988 to spend time with his family and his newborn baby, and the same year, the remaining four members of Night Ranger released the album "Man In Motion", with Jesse Bradman stepping up on keys. Fitz went on working with other bands after he left Night Ranger. The single off the "Man In Motion" album was "I Did It For Love". That song was not written by Night Ranger, but by Russell Ballard. In 1989, Night Ranger decided to quit it. The reasons for making this decision was that they had some problems getting along with MCA Records. MCA wanted Night Ranger to be a "ballad band", something the band really didn't like, cause Night Ranger is, afterall, a hard rock band. The members of Night Ranger went their separate ways, and MCA released two more albums to fullfil the Night Ranger album contract. "Greatest Hits" was released in 1989, and "Live In Japan" in 1990. "Live In Japan" was recorded in Tokyo, Japan in 1988, and when that album hit the streets, the band was pretty much unaware of it's release.


The members of Night Ranger did a lot of stuff after the break-up of he greatest band in the world. Alan Fitzgerald did a lot of keyboard playing 'behind the curtain' for the band Van Halen, then Fitz went on playing some keys for Aerosmith in 1997. Right after Night Ranger broke up in 1989, Jack Blades got together with Tommy Shaw [of Styx] and Ted Nugent [of Amboy Dukes] and formed the band Damn Yankees. The three guys picked up the young drummer Michael Cartellone and released two albums, "Damn Yankees" in 1990 and "Don't Tread" in 1992. Both Damn Yankees albums went platinum. The song "Don't Tread On Me" from the "Don't Tread" album was featured on the Barcelona 1992 Summer Olympics album, and the song "Silence Is Broken", also from the "Don't Tread" album, was played during the ending credits in the movie "Nowhere To Run" (1993), starring Jean-Claude Van Damme. In 1989, Jack Blades appeared on the Motley Crue album "Dr. Feelgood", doing some background vocals. Damn Yankees made a song called "Bonestripper" for the movie "Nothing But Trouble" (1991), starring Chevy Chase. Jack Blades did a song together with Tommy Shaw and Vince Neill [of Motley Crue] called "You're Invited But Your Friend Can't Come", for the movie "Encino Man" (1992), starring Pauly Shore. In 1990, Kelly Keagy played some drums on the Poison album "Swallow This Live", and the same year he worked with the band King Of Hearts. Jeff Watson released two solo albums, "Lone Ranger" in 1992, and "Around The Sun" in 1993, and formed the band Mother's Army with his buddies Loe Lynn Turner, Bob Daisley, and Carmen Appice. Mother's Army released three albums, "Mother's Army" in 1993, "Planet Earth" in 1996 and "Fire In The Moon" in 1998. Jeff also organized numerous Hamer guitar clinics in the U.S. and Japan in 1991 and 1992. Brad Gillis did a solo album called "Gilrock Ranch" in 1993, and the song "Stampede" from that album was played in the movie "Don't Tell Mom The Babysitter's Dead" (1991), starring Christina Applegate. Later that year, Brad Gillis and Kelly Keagy hooked up with bass player Gary Moon [of Jeff Paris] and started touring and playing Night Ranger songs in the US. After touring and playing for a few of years, the trio Kelly Keagy, Brad Gillis and Gary Moon released a Night Ranger album called "Feeding Off The Mojo" (1995). Gary was no Jack Blades, because he sounds nothing like Jack, but he has got a great voice, and did a really good job. In 1995, Jack Blades and Tommy Shaw put together an album called "Hallucination", which has a country-rock kinda feel. The song "My Hallucination" from that album was used in the movie "Tommy Boy" (1995), starring Chris Farley, and featured on the Soundtrack. Jack Blades and Tommy Shaw has written many songs for bands and artists like Alice Cooper, Aerosmith, Ozzy Osbourne and Cher. In 1996, Alan Fitzgerald, David Lauser, Robert Berry and Gary Pihl formed the band Alliance, and released an album in Japan called "Bond Of Union". That album was released in Europe in 1997 with the new title "Alliance".


FINALLY, in 1996, all the original five members of Night Ranger called each other up on the telephone and got together. The guys were surprises how tight they sounded together after all this time and decided that they'd start touring again. Night Ranger was once agian touring and rocking the world again! They went to Japan and did a show in Tokyo to let the world know they were back, and Japanese record companies were all over the place, wanting to get the band signed. Night Ranger chose ZERO Corporation as their new label. It didn't take long before they were up in Jack's high tech studio barn down in Wine Country, putting together a brand new album! In 1997, Night Ranger released an album in Japan called "Neverland". The new album "Neverland" album was the first album from all the original band members in 10 years! The Japanese single "New York Time" did very well in Japan. In the US the band needed a label. John Kalodner, a big name in the music industry, listened to the "Neverland" album and got the boys signed to Sony Music. In the summer of 1997, about four months after the Japanese release of "Neverland", Sony Music released the album in the US on the Leagy label. The single off that album was the ballad "Forever All Over Again", which was a highly requested track at some radio stations. The band got signed with Paradise Artist Booking and Firstars Artist Management. Night Ranger did a tour in Japan and one in the US to support the new "Neverland" album. In 1997 the song "Sister Christian" was played in the movie "Boogie Nigths" (starring Mark Wahlberg). Another greatest hits compilation, called "Rock Masterpiece Collection" was released in Japan by MCA Victor. A killer new live album, recorded in concert in Japan, called "Rock In Japan '97" was released in Japan by ZERO Corporation and featured a very cool 3D CD cover featuring the guys rockin' out by tilting the cover.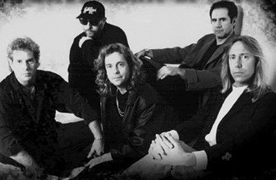 In 1998, the band jumped from Sony Music to CMC International. CMC is a much better company when it comes to promoting great rock music. In 1998, the band released another amazing studio album called "Seven". The biggest difference between "Seven" and all of the bands prevoius albums, was that "Seven" was self produced by the band. "Seven" is a very crisp and hard rockin' album that more than proves Night Ranger's producing abilities, as well as their songwriting skills. "Seven" was released in Japan by ZERO Corporation, and in the US by CMC International. The US radio singles from that album were the hard rockin' tunes "Sign Of The Times" and "Kong". The reason why "Seven" was so hard rockin', was because Night Ranger produced the album themselves. They guys were very proud of what they accomplished with "Seven".


The year 2000 saw the release of Brad Gillis' second solo album, the mighty "Alligator" featuring lead vocals by Gary Moon (of Jeff Paris and Night Ranger), as well as some lead vocals by Brad himself. Another big name on this record was Kelly Keagy. While Night Ranger was still touring hard in the year of 2000, Kelly Keagy contributed with some fine vocal work on Jim Peterik's "World Stage" album and did many live shows with World Stage. Kelly also went to England and played at the Gods festival, performing some of his upcoming solo songs. And finally, in 2001, Kelly Keagy released his very first solo album. The very melodic and hard rockin' "Time Passes" album was a huge hit in the meloric rock world and featured songs co-written by Jim Peterik (of Survivor), as well as some stellar guitar playing by Jeff Watson. "Time Passes" is a classic, and one of the best rock albums of all time. Fitz did another outstanding album with his band Alliance in 2003, called "Missing Piece". Jack Blades released his very first solo album in 2004, the self titled "Jack Blades". Jack invited a bunch of his old friends to play and sing with him on this album, and the result was a fun album. Some of his friends playing on this album include; Kelly Keagy, Brad Gillis, Jeff Watson, Tommy Shaw (of Styx), Michael Cartellone (of Damn Yankees), Neal Schon (of Journey), his own son Colin Blades, and many more!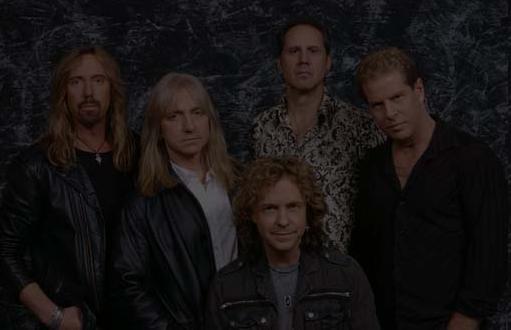 Michael Lardie (of Great White) has been Night Ranger's permanent keyboard player since 2003, after Fitz left the band. Fitz is continuing his work with artists such as Bruce Springsteen. Michael Lardie continues to impress, and even produced Night Ranger's 2005 re-recording, "Hits, Acoustic & Rarities" with amazing results! The members of Night Ranger continued to work in and outside the band. They all had multiple side projects going on, promising more new Night Ranger member solo albums in the coming years! Seems like the guys never rest! Night Ranger has been touring EVERY SINGLE YEAR since their reunion in 1996, and the band continues to amaze both old and new fans, with their stellar stage performance!!! They've never been better!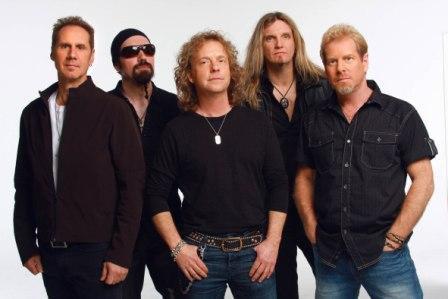 Get ready for the next chapter in Night Ranger history! In 2007, Jeff Watson left the band. It was a major thing to happen, but Night Ranger kept going without Jeff. In came Reb Beach, guitarist extraordinaire from Whitesnake, Winger and many other big acts. Reb was on tour with Night Ranger for two years and did an amazing job "standing in Jeff Watons's shoes" (not an easy task!). 2007 also saw the departure of Michael Lardie on keyboards, and the news of a new keyboard player by the name of Christian Cullen. Christian played live with Night Ranger til 2011. Eric Levy is Night Ranger's new permanent keyboard player from 2011. Starting in 2008, the wicked Joel Hoekstra became Night Ranger's new permanent guitar player. In 2010, Night Ranger's monter hit "Sister Christian" was features in the latest update in the horror movie series "Friday the 13th"; much like in "Boogie Nights" you will hear the actor in the movie actually sing the chorus to this song! The biggest news in a long time, however, came in 2010 when Night Ranger announced they were working on a brand new studio album, due to a worldwide release in June 2011. According to Jack Blades, the album would be a return to Night Ranger's roots, rockin' out in classic 80's Night Ranger style again. The new Night Ranger album is released through Italy based Frontiers Records, and the guys have done their first music video in 13 years (since "Sign Of The Times" off of 1998's "Seven" album) called "Growin' Up In California". In June 2011, Night Ranger will be playing in Europe for the first time in more than two decades. The London gig on the 23rd of June 2011 will be the most awesome Night Ranger gig yet... Night Ranger just keeps on rockin' the world!!!


Jeff Watson, which is dear to all Night Ranger fans, is currently playing with his brand new band Jeff Watson & The Lone Rangers, starting in 2011.